As a student you get a lot of experience writing short essays, but even the thought of writing a full dissertation might send you into an anxious spiral. How do you start planning something so elaborate through an entire year and around all your other deadlines?
As you might have noticed from my How to Stay on Top of Academic Work post, I tried to stay as organised as possible at university. I held a part-time job throughout my degree, so staying on top of what I had to do for university was essential to keep my anxiety at bay and helped me graduate at the top of my class.
Writing a dissertation is tough. Even just deciding what to write about can take a considerable amount of time. How can you, then, keep track of what you need to do and make sure that you don't have 8000 words to write the week before submission?
Dissertation timeline example
During my dissertation classes (I would definitely recommend attending if your university offers them), the lecturer suggested that we create a spreadsheet with every stage of our dissertation and plan ahead. You might not stick to your original plan, but having this overview of the whole project lets you easily adjust.
The image above is a picture of a printed copy of my own timeline at the end of the year. I had it pinned to the wall at my desk, so I couldn't just ignore it. As each week went by I ticked what I had done, or crossed out what I fell behind on. When it came to the drafting stage I realised I hadn't accounted for an extra chapter I needed and that I should leave the abstract for last, so I scribbled the new targets over the old ones.
Thanks to this, I had a fully finished draft of my dissertation nearly one month before the deadline. This left me plenty of time to distance myself from it before proofreading. Finding all the mistakes I'd left behind in the drafting frenzy was so much easier with the extra time!
How to use
A spreadsheet this elaborate requires some tweaks and extra steps to be used to its full potential. I know that not everyone works the same way, so these are just suggestions based on my own use.
Check timeline/targets
The weeks displayed on the template have been included with the assumption that you will start planning this week and your submission deadline is in mid-April. If your situation is different make sure that, before all else, you add/remove weeks as needed.
I needed primary (novels) and secondary (theory/criticism) sources, for example. I was also allowed to submit a draft of each chapter to my supervisor for feedback, so I accounted for that in my planning when it came to revisions. You might not be in the same shoes, so you can get rid of any unnecessary targets on the left. Do read through the targets I included and adapt them to your own requirements.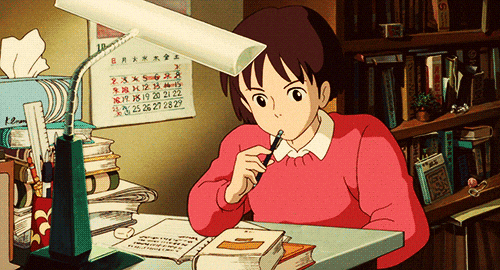 Colour coding is your friend
I am all up for colour coordinating things. Tabs, highlighters… You name it, I use it. Using colours to highlight the weeks where you plan on doing work (right-click, bucket/shading tool) is useful not only to leave the cell empty for any notes but also to know at a glance what stage of the process you are at. In my example, I used different hues of blue for the research stage, purples for planning/drafting and pinks for edits/reviews. I also used sharpies in each colour to fill in cells when I later learned I needed more time.
Colour is also useful for showing you when you have extra time. In my timeline, I made weeks where I didn't have classes grey. That way, I was immediately aware of when I had more time than usual to work on my dissertation. I would recommend doing this at the very start, before you plan your year; that way you know when you can do more work.
Remember your other classes
If you haven't organised your year yet, I suggest you take some time to do so (you can even use my free template for an academic work diary). If that is not your thing, make a note of at least your big deadlines. Notice that, in my above example, some cells have a red outline. This was my way of telling myself I had a deadline for another class that week, so I might not be able to do much on my dissertation.
And lastly…
Don't be too hard on yourself
Just because you fill in this template now it doesn't mean that it is set in stone for the rest of the year and that you should freak out if you fall behind. Notice how many alterations I made to mine. Sometimes I gave myself three weeks to hit a target, and I only did it on the last week. Sometimes I had to revisit certain targets weeks later.
The point of this template is to keep you on track of such a large project and, if you do fall behind, tell you just how much you still have to do and how much time you have left to do it in.
The last year of university can definitely be stressful, as you prepare yourself to enter the workforce in your desired field, but your academic work shouldn't add to that stress any more than necessary.
Ready to plan your dissertation timeline? Click the image below to download my free template!
Sofia Matias is a professional writer, editor and proofreader. She specialises in working with independent authors of Young Adult and genre fiction, publishers and publications. She is an Intermediate Member of the Chartered Institute of Editing and Proofreading (CIEP). Learn more about her and her services on her website and connect via Twitter, LinkedIn, Facebook or Instagram.